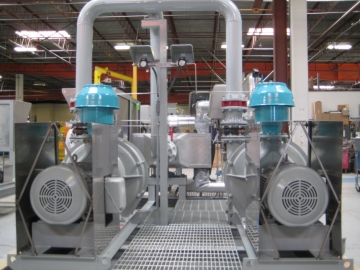 Wherever oxygen is required to facilitate combustion, Continental's blowers are hard at work. Both municipalities and private industry rely on our technology to supply air at a variable flow rate to facilitate the combustion process through a variety of means, including:
incineration of sludge from wastewater treatment plants;
facilitate the sulfur recovery process from waste emissions to meet environmental regulations at an oil refinery;
contribute to various manufacturing processes required for the production of carbon black
In all cases, our equipment's hallmark ruggedness and variable air flow have proven to be essential allies in such highly demanding applications. And Continental Blower has continues to build a long track record of performing on time and on budget in extreme environments.
Continental Blowers are rugged enough for:
Sulfur recovery units at petroleum refineries
Fluidized bed systems in the incineration of low BTU fuels
Carbon black production
Flue gas desulfurization and more
LNG vaporization